About Breadwinner Homemade Sweet Breads
Before there was Breadwinner sweet bread, there were simply too many eggs in Geoff and Katie Melkonian's Atlanta kitchen. It was Thanksgiving 2005, and they—plus Geoff's sister, Wendy—were trying to decide how to use the eggs left over from their holiday cooking. "Pumpkin bread!" they concluded. The three proceeded to test several recipes before selecting Katie's grandmother's as the favorite.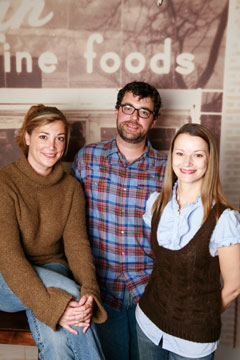 Now, the issue was what to do with a kitchen full of pumpkin bread. The Melkonians cleared their countertops by giving the loaves away to friends. Rave reviews encouraged them to take a dozen additional loaves of the homemade pumpkin bread to a local restaurant, where they sold out in half an hour.
The family knew it was on to something big, and Breadwinner was born.
Breadwinner now has its own Atlanta café/bakery and online store, both of which sell the company's homemade bread in almost a dozen flavors. The breads—sold either individually or in multi-loaf gift boxes—have become popular as thoughtful and unique personal or corporate gifts.
The café is the newest addition to the Breadwinner lineup, offering fresh and prepared foods in addition to the loaves of sweet bread. Customers can dine in or purchase prepackaged foods to go.
Breadwinner's sales have grown over the years through referrals and positive publicity: Food Network's "Road Tasted" show, starring Bobby and Jamie Deen, featured Breadwinner as one of its stops on its cross-country tasting journey, and "Gift Guru" Robyn Spizman ranked Breadwinner No. 1 on her list of summer hostess gifts on a "Today" show segment. Breadwinner has been showcased on "Good Morning America" and the Daily Candy Web site as well.