Business Gifts and Client Gifts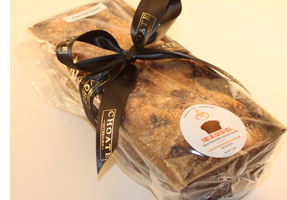 When you choose to send Breadwinner gift food baskets as a client gift or for any business occasion, you're giving something unique and memorable—something that will keep you in your customers' thoughts long after that last moist crumb disappears.
We understand how important it is for your client gift to be perfect: the right combination of sweet bread, gourmet coffee, and homemade jam, artfully packaged and delivered on time and accurately. That's why you won't find any online forms or templates on our Web site. When you order gift food baskets from us, you talk to a real person—one who will walk you through every step of the process and ensure that each client gift you purchase gets the same personal attention you give every one of your customers.
The Breadwinner personal touch means we'll work with you to create unique gift food baskets within your budget. We'll customize the packages too: with a personal card on your company stationery, with a sticker bearing your company's logo … with whatever will show your recipients how much thought and care you put into selecting their gourmet gifts.
Whether you've purchased a client gift from us before or are sending Breadwinner breads for the first time, we know you'll be thrilled by our service and our products. Call us at 404-843-0224 to get started on sending the best business gifts you've ever purchased.
Breadwinner: gourmet bread, gourmet service. It's what sets us apart from all the rest.



1. Determine your budget.
2. Compile an initial list (with or without addresses) of everyone you'd like to acknowledge with a Breadwinner gift.
3. Call Breadwinner at 404-843-0224 and let us know you'd like to send some gift food baskets.
4. Discuss your budget and recipient numbers with us, and together we'll put together a package that will please you and your customers.
5. Provide us with a shipping list and delivery dates—you can preorder at any time, and we'll make sure the packages arrive on your desired date.
6. Provide us with any materials such as cards to be enclosed with each client gift or discuss customization requests with us.
7. Pay for your order.
8. Sit back and relax while we handle all the details.
9. Wait for the thank-yous to come pouring in.
10. Be ready to answer questions like, "Where did you find that Breadwinner bakery?" and "How did you come up with such a unique gift idea?"
11. Enjoy the benefits of happy, well-fed customers and business associates.